Mark Schneider re-enacts Napoleon during the biggest commemorative events of Napoleonic re-enactment since 2005. He will also be attending the 210th anniversary of the Battle of Znaim organized within the Project Austerlitz in Znojmo and Únanov, 10th-14th July 2019, and will also be participating in the 210th anniversary of the Battle of Wagram in Austria. We bring an interview with Mark, not only about his role of Napoleon in similar events (at Austerlitz, Jena, Borodino, Waterloo and many others) – Mark has also been serving in the US military and deployed in former Yugoslavia. His next visit to Europe is part of his "Journey of Liberty", he will be leaving the US on 4th July, Independence Day, and the program in Znojmo will end on 14th July, the Bastille Day.
You are going to Wagram and to Znaim, to represent Napoleon for the 210th anniversaries of the final battles of 1809. How many events have you actually been to since 2005?
Yes, I will have the honor and pleasure to portray the Emperor Napoleon at both Wagram and Znaim this year. Since 2005, I have participated in nearly 100 events as Napoleon Bonaparte. I have been to numerous events in Austria, Belgium, Czech Republic, France, Germany, Italy, Russia, Spain and the United States. It has been quite an amazing adventure!
The battle of Znaim was in fact Napoleon's very last decisive victory. Mostly ignored by historians, with important exceptions of course, and the general story which always places Wagram above Znaim. If you agree, why is that?
I think that Wagram overshadows Znaim for two reasons. First, it is Napoleon's first major victory after his setback at Aspern-Essling in May of 1809 and second, the sheer size of the Battle with nearly 350,000 men fighting on both sides. I agree with you that Znaim should be spoken of with great importance because though Wagram was a victory, the bulk of the Austrian army was able to retreat and fight another day. The Battle of Znaim would end with the armistice and an end to the war. I think Znaim should certainly be thought of with greater importance and perhaps be remembered with other great victories such as Rivoli, Marengo, Austerlitz and Jena.
You were soldier. Can you tell us more about your military service? Where did you serve?
I did have the honor of being a soldier in the United States Army from 1993-1997. I trained to be a 19D Cavalry Scout. This was armored reconnaissance with a HMMWV and the M3 Bradley Cavalry Fighting Vehicle (CFV.) I did my initial training (OSUT-One station Unit Training,) at Fort Knox Kentucky with the 5th Squadron 15th Cavalry Regiment. I was then sent to Fort Polk in Louisiana and joined the 3rd Squadron 2nd Cavalry (2nd ACR.) We served as part of the 18thAirborne Corps and with JRTC (Joint Readiness Training Center.)  I was then assigned to the 1st Squadron 1st Cavalry (1-1 CAV) in Buedingen Germany. It was while I was in this unit that I was deployed to Bosnia-Herzegovina with the First Armored Division to enforce the Dayton Peace Agreement as part of IFOR (Implementation Force.) I was deployed there from December 1995 through October 1996. Following my deployment to Bosnia, I returned to Germany and finished my military service in April of 1997.
Do you think there are specific aspects of napoleonic warfare which it is important to study even today, not just as history or hobby, but as inspiration for the military?
Absolutely! I firmly believe that all the answers to the future can be found in the past if you know your history. Technology in warfare has changed over the centuries but its principles have remained the same. By reading about the great Generals of the past like Alexander the Great, Hannibal, Julius Caesar, Frederick the Great and Napoleon, you are able to apply their principles of war, strategies and tactics to a modern battlefield. In every major military academy in the world, the military philosopher Clausewitz and his book On War is studied. Clausewitz fought in the Napoleonic Wars and based his writings upon the campaigns of Napoleon.
Are there any ideas you would like to propose to the various organizers of events in order to make the event more attractive both to the public and to the participants?
I think with any event, the quality of the participants will speak for themselves. That being said, I think it would be nice at each event to have several events planned that will make it more enjoyable for the participants as well as the public. First, it would be nice to have a narrator at an event/battle that will explain exactly what is happening on the field. The reasons why the soldiers are doing what they are doing.
This could be reinforced before and after the battle with a period bivouac set up and representatives from each unit explaining the life and times of that particular soldier (the uniform, weapons, equipment, etc…) Therefore, when the public sees the battle, they will now have a better understanding of what they are looking at and for the reenactor, it will allow him to share his knowledge on the subject. Other than the main battle, it would be nice to have smaller demonstrations performed by the units so that the public might receive a more focused look on the subject and potentially a "hands on" opportunity in which the public might be able to hold, touch or wear the equipment. I believe that it makes a big difference to the public when they can feel the equipment up close as opposed to seeing it far away.
Another opportunity would be to include a character or characters giving theatrical performances in First Person as if you were really meeting someone from that time period. It might be nice also to include cooking demonstrations, laundry, camp life, dancing, etc… I believe that this would all add to the experience. Before the event at Znaim in July, I will be giving a talk on this subject called "Ideas for Improving Napoleonic Reenactments." Many of these ideas come from my over 20 years of reenacting experiences as well as from the work I do at the Colonial Williamsburg Foundation.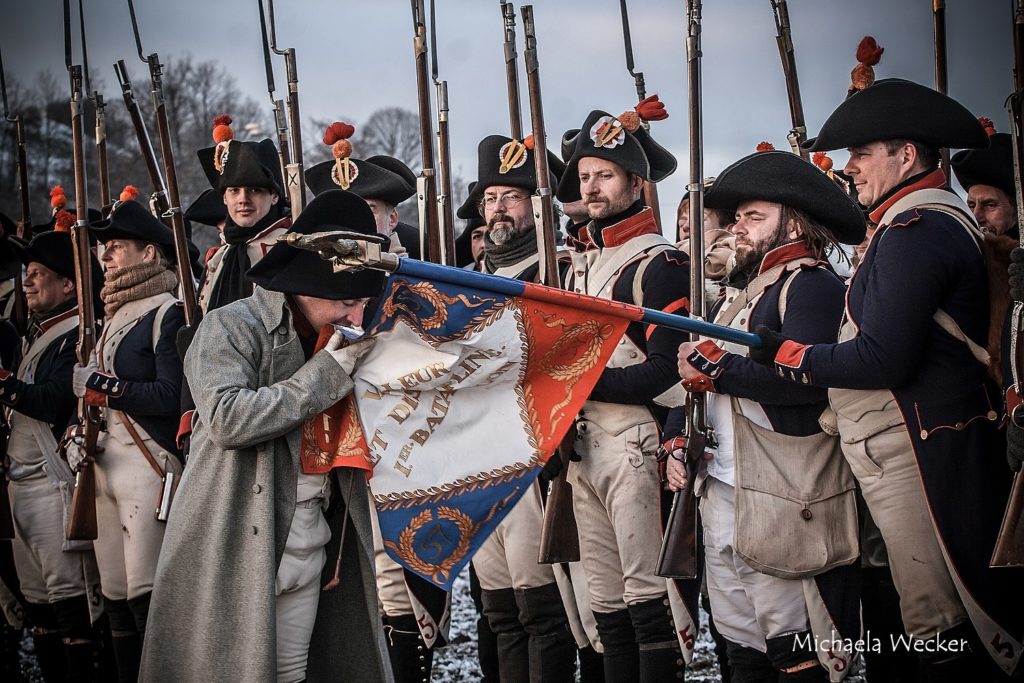 Speaking of re-enactors. In a very well received article "Reenactors in Normandy: A Pleasure or a Pain? Time to Raise Their Game?" Paul Woodadge, himself an experienced re-enactor, said he wanted to start a discussion on improving standards of our hobby. What would the top five or top ten of principles the napoleonic re-enactors should follow according to Mark Schneider, Napoleon of Austerlitz re-enactments?
Enthusiasm. I think it very important for the participants to be excited and motivated to be there and to have the honor and privilege to represent the soldiers that fought and died centuries ago.
Knowledge. Knowing your subject is very important. If you can explain the history of the time period, the unit you represent, your weapons and equipment, it will make the experience infinitely better for the public as well as the participant.
Uniform. Uniforms and equipment can be very expensive but they are very important to establishing a believable impression. Before someone even speaks, the public is going to see their uniform and that will establish an impression in their mind of what they are looking at. If it looks more like a carnival or Halloween costume, then that is what the public will perceive it as. Even though they are expensive, doing the research, finding the correct fabrics and materials and the proper cut of the uniform is a valuable part of reenacting.
Training. Unlike the soldiers of the past, we do not get the opportunity to train every day. I believe that it is very important to work on your drill, manual of arms, horsemanship and impression, even when you are not at an event. This will enable you to perform much better at events.
Comradery. Sharing information, Ideas, thoughts and impressions, all work towards establishing better relationships at events and ultimately making yourself and your unit, and the hobby better. Those that constantly criticize, insult or degrade others, do not serve a purpose and only lead to animosity and a bad atmosphere. By working together, supporting one another and sharing ideas, improvements will be more readily made and events will greatly improve.
Is there any particular difference in approach between the napoleonic re-enactment in America and in Europe? Besides the obvious: numbers and places. There is also a link between the napoleonic re-enactment and the War of Independence re-enactment, where you are active as général Lafayette I think. Are there many re-enactment events dedicated to the American revolution?
American Revolution reenacting is much more popular and common in the United States than Napoleonic reenacting. I think for the same reason that Napoleonic reenacting is more popular in Europe. It is because you are in the country or countries where these battles were fought. Many people in the United States have ancestors that may have fought in the American Revolution and they want to honor them by recreating what they had done in the past. The same holds true for Napoleonic reenacting in Europe. There are many enthusiastic Napoleonic reenactors in the United States but I would say that most of them are hopeful of getting to an event in Europe. There are not nearly as many Napoleonic events in the United States than there is in Europe.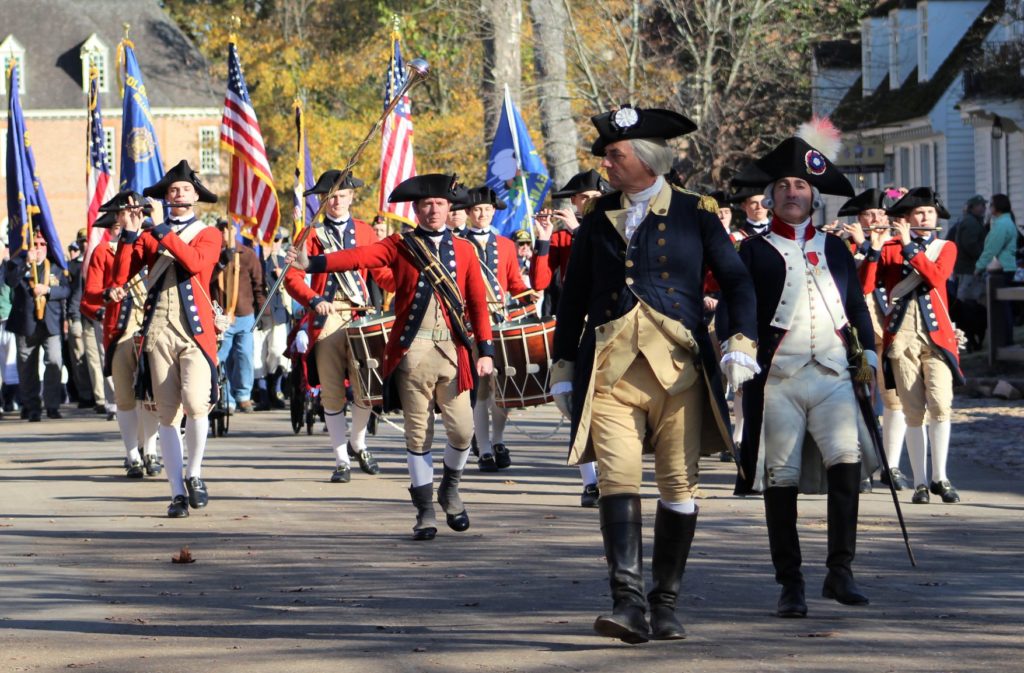 There certainly is a link with Napoleonic Reenactment and The American War for Independence. Some of Napoleon's soldiers served with the French army under General Rochambeau. Most notably Marshal Berthier who would go on to become a Marshal of France and Napoleon's Chief of Staff. During the war he was a Captain and aide-de-camp to Rochambeau and made maps of the cities the French stayed at. I do portray General Lafayette for Colonial Williamsburg and with the various performances I do, I often talk of Napoleon and the Napoleonic wars when I set the presentation at a later time in history. It is interesting to note, that Napoleon and Lafayette did not get along terribly well, so I am in conflict with myself! Lol!
What are your plans for the nearest future? At Znaim we will celebrate Napoleon's 250th anniversary – yes a bit early. Where will you be on 15th August, what is your program? We also hope we will have you at Austerlitz 2019. Where would you like to go next year?
Well I will of course attend Wagram and Znaim in July. I am planning a trip to Paris in the fall to take part in the 30th anniversary of the XeEscadron. That is a European reenactment organization that I am a member of. I also hope to attend Austerlitz 2019. For next year I have not fully planned what events I shall attend, but I am planning a work trip to Paris with a colleague of mine who portrays Thomas Jefferson. As long as there is a Napoleonic event where I can experience the rich history and portray the great man Napoleon, I am happy to go anywhere!