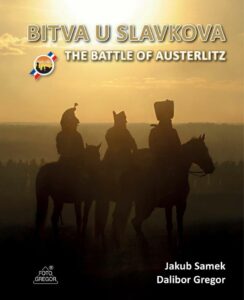 Text: Jakub Samek
Photo: Dalibor Gregor
The book presents the battle of Austerlitz known as the Battle of the Three Emperors and is a brief interpretation of the historical course of the battle in the context of modern historical re-enactments.
Every year at the turn of November and December to mark the anniversary of the Battle of Austerlitz a thousand "Napoleonic soldiers" from all over Europe come to South Moravia to re-enact the battle during the largest regularly held commemorative event, which is organized by the Project Austerlitz since 1998. In 2017 French General Gobilliard, President of The Legion of Honor Association, said: "For the first time in my life, I have seen this demonstration and the maneuvers I learned about at the Saint Cyr Military Academy!"
The book is published in Opava publishing house Ing. Dalibor Gregor in the "In Your Pocket" edition and is an appropriate gift for festive occasions. The book will be officially launched during the Fires of Girzikowitz on the Zuran Hill on 29th November (17:30) and will be available from the main stand at the entrance to the battle re-enactment under the Santon hill on Saturday, 30th November.